Hidden Gems of Morocco: Exploring the Enchanting Atlas Mountains
The Atlas Mountains are Morocco's hidden gem. They are home to some of the country's most remote and interesting villages where you find the local Berber tribes.  The Berber measure distance by hours, meaning they measure distance by the amount of time it takes to get from one village to another.  It's easy for you, as you are going to be travelling by car, but for local people, it was on foot or on horseback.
Road Trip Adventure: Discovering the Fascinating Villages and Scenic Views
As a traveller, you can visit the Atlas Mountains from Marrakech as a base.  You can go for a few hours, or a few nights.  The road trip is fascinating and of course the deeper or higher you go, the more exciting.  The roads are incredible, taking you through exquisite nature, interesting tribal villages and spectacular views.  Just a few years ago the infrastructure here was basic, but roads are well built and it's easy, but still remote enough not to be too busy, to travel into the mountains.
Accommodation Choices: Resorts, Guesthouses, and Retreats in the Atlas Mountains
You have a few types of hotels to choose from and this depends on your budget and your interests.  People go to the Atlas Mountains to ski, in which you may choose a resort style hotel. Many go for adventure, including trekking, hiking and abseiling, in which case they usually choose a more local style guesthouse or riad. There are luxury resorts, such as the Kasbah Tamadot owned by Richard Branson, and there are hostels and backpackers too.
Tailoring Your Experience: Duration and Options for Exploring the Mountains
How long you go to the Atlas Mountains for totally depends on you, talk to us about all of the options.  There are also people who do their own thing, hire a car and drive to the mountains on their own.  There are several retreats up there, and if one is looking for a tranquil few days in peace and nature, where the air is fresh and there is no noise, you may want to do your own thing.
Imlil: A Charming Mountain Town and Gateway to Mount Toubkal
You can take a private driver and visit one of the more popular destinations in the Atlas Mountains which is just an hour out of Marrakech, the mountain town of Imlil.  Imlil is at the foot of Mount Toubkal, and there is a little bit of everything here. You get lovely views and an interesting town which you can also do trekking from and have a very special lunch stop at the Kasbah Tamadot.  Or even an overnight stay.
Best Time to Visit: Summer and Spring Adventures in the Atlas Mountains
You can visit the Atlas Mountains at almost all times of the year but summer and spring are best.  The days are warm and gorgeous, although evenings can get chilly. You're in the mountains, look out for guided treks, ask your guides and try to watch the sunrise from the top of Mount Toubkal. It's beautiful.
Frequently Asked Questions
Who lives in the Atlas Mountains?
Bob Taylor
2023-05-25T20:31:13+00:00
The Atlas Mountains house longstanding Berber communities, who have resided in the range for centuries. As an indigenous people of North Africa, the Berbers possess a distinct culture and language that distinguishes them from neighbouring communities. Additionally, the Atlas Mountains boast diverse wildlife, encompassing ibex, Barbary sheep, and golden eagles.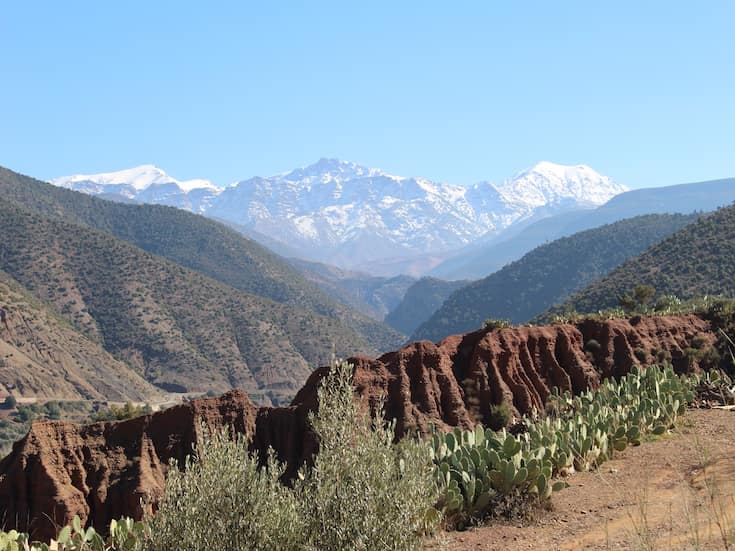 6 Day Holiday
Embark on an unforgettable journey with the Atlas Mountains Walking Tour and explore the breathtaking scenery of Morocco. This tour is perfect for adventure seekers who want to experience the beautiful Atlas Mountains and the vast Sahara Desert in one trip. As you wander through the mountains, take in the stunning snow-capped peaks, lush valleys, and charming Berber villages. Along with walking, this tour offers a unique opportunity to ride camels in the vast sandy expanse of the Sahara desert. With expert guides and comfortable accommodations, this tour promises to show you the beauty of Morocco in a way you've never experienced before.
Day Trip

Embark on an unforgettable adventure with the Atlas Mountains Day Trip in Morocco. Your journey begins as you are picked up by a 4×4 Toyota Landcruiser, fully escorted through the Toubkal National Park region of the Atlas Mountains. Experience the vintage Berber life with a guided walk through the valley and visit a stunning Berber village. After the walk, indulge in a delicious lunch at a traditional Moroccan restaurant. This day trip is sure to leave you with incredible memories of hiking through the picturesque Atlas Mountains. Join us for a day filled with breathtaking views and unforgettable experiences in Morocco.